Extensions et tutorials gratuits disponibles sur internet pour Dreamweaver. PHP et ASP. Classement thématique. Blog référencé par Adobe Communauté Dreamweaver.
New version for my free HTML5 and CSS3 Wordpress Theme
12 janvier 2010 | Posté par caroder à 21:50
I worked on my free HTML5 and CSS3 Wordpress Theme to add popup menus and display nicely the submenus. I also heard advises to not use the reverse in displaying pages menu.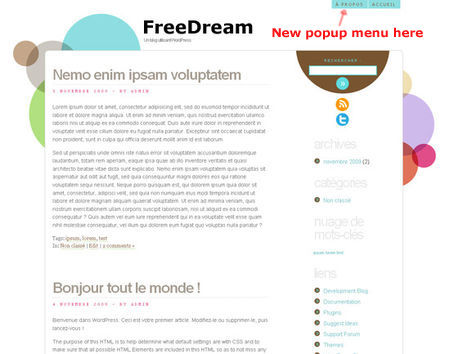 Download FreeDream 1.3 Wordpress Theme
*****************************************************
Pour mes lecteurs français :
Je publie aujourd'hui la nouvelle version de mon thème gratuit pour Wordpress utilisant HTML5 et CSS3. Celle-ci utilise désormais des menus déroulants pour le menu des pages : les sous-pages s'affichent plus harmonieusement quand elles existent.
Commentaires
Poster un commentaire